Innovating Local Entrepreneurs: Hot Bread Kitchen
Our customer Hot Bread Kitchen was featured in Entrepreneur! From the article: "Many of the program's 191 women have been hired by New York institutions like Eataly and Zaro's Bakery. 'Somebody told me that not a piece of artisan bread is consumed in New York City that hasn't been touched by Hot Bread Kitchen,' the CEO says."
Congratulations on the feature and keep up the fantastic work!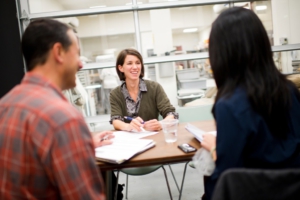 Hot Bread Kitchen envisions a food system that equitably compensates talent and sustains a diverse workforce while celebrating culinary tradition and innovation. We achieve our mission through our employer-driven workforce development and business incubation programs, Bakers in Training and HBK Incubates. Image and text © Hot Bread Kitchen
Macrina Bakery & Cafe
Our customer Macrina Bakery & Cafe was featured in the 1st issue of BAKE. "Based on the model of the traditional old-world village bakery, the bread baked daily at Macrina Bakery & Cafe in Seattle incorporates unique characteristics because of the use of available regional ingredients. The rustic European breads and baked goods from Macrina feature as many indigenous products as possible, as well as organic grains and natural ingredients."
Lovin Oven Cakery
Our customer Lovin Oven Cakery was recently featured in ModernBaking. "Competition makes you better," Matt Slove says. "It's about stepping back and saying, 'There are no sacred cows here; we can make some changes and it will make us better.'"
Orland Park Bakery
When our customer Orland Park Bakery moved to a new location, they were featured in Trib Local – Orland Park. "So many people who don't even live in Orland Park come here," said Joe Gleiter of Orland Park.
Dessert Works
Our customer Dessert Works of Westwood, MA was featured in Wicked Local. "Kristen Repa – the one-time apprentice chef at the Ritz Carlton, executive pastry chef for The Catered Affair and cake decorator for Konditor Meister – has brought her love of fine pastry and talent and creativity to Dessert Works, the closest thing in Westwood to a European patisserie."